British TV brand Mitchell & Brown launched in the UK two years ago and is raising its profile in the independent sector, says operations director, Dan Brown.
Deciding which TV brands to sell is tricky. Get it right and you'll do well. Get it wrong and your bottom line will suffer.
With that in mind, why would you sell an unknown television brand? A brand which many consumers have yet to discover?
Well, there are a number of reasons. First, Mitchell & Brown is a UK brand with a UK service centre, UK sales team, in-store support and the only TV brand to offer an industry-leading seven-year warranty.
'Our retailer customers are delighted to know that by selling Mitchell & Brown they are backing a British brand that's based in the UK'
All good reasons to stock the Mitchell & Brown range, which hit the marketplace two years ago and is now championed by hundreds of independent retailers nationwide. A brand like no other born from 22 years of retailing experience through our umbrella company, TV & Video Direct in Bolton.
Mitchell & Brown started life as a totally unknown brand, manufactured to the highest specifications alongside some of the top names in the industry by one of the world's top TV manufacturers. And all backed by a phenomenal seven-year warranty.
Our success to date has been overwhelming. We have sold in excess of 35,000 TVs – a figure far greater than our expectations.
Finally, our retailer customers are delighted to know that by selling Mitchell & Brown they are backing a British brand that's based in the UK.
Before launching the brand, we carried out extensive research with the European manufacturers with whom we have been dealing for almost 15 years. And the result was a feature-filled range to which we are continually adding.
Our line-up includes LED TVs from 24in right up to 75in with extensive features including T2 Freeview HD, smart, 4K UHD and Freeview Play built-in. We also offer a smart platform with Netflix and later this year we will roll out Amazon Prime.
More recently we expanded our white range – as a result of retailer demand – and now have fully featured models right up to a 40in smart TV.
One of our key USPs is that being retailers ourselves, we value and listen to the opinion of other retailers when deciding our product line-up. For example, following requests for larger handsets, we increased the size of our remotes. And given that many older consumers still like using DVDs, we decided to include a TV/DVD combi in the line-up.
We are also proud to boast that we are available at the end of a phone if you want to talk to us. And that's something you cannot readily say about most other TV brands on the market.
And judging from our sales, together with some amazing retailer endorsements, we seem to be doing something right.
We are delighted that we have hit exactly the right note with Retra members. And long may this continue.
So please watch this space for exciting new developments coming your way very soon…
'Half our TV sales  are Mitchell & Brown'
We asked some Retra members to tell us the benefits of selling Mitchell & Brown TVs.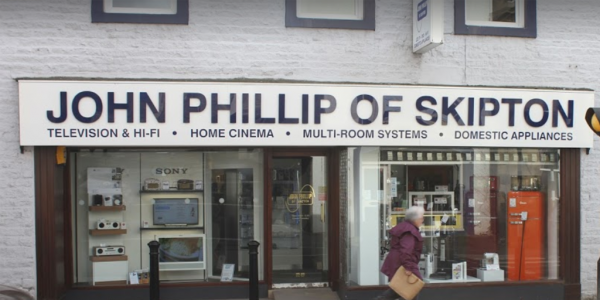 Jonathan Phillip, director of John Phillip of Skipton, North Yorkshire, says: "We absolutely love the idea of a British brand backed by a seven-year warranty. For a manufacturer to give such a warranty is fantastic – I am delighted to report that half our TV sales are Mitchell & Brown." Another Mitchell & Brown fan is Gregor Watson of Saltcoats in Ayrshire.