Launches on ITV2, Monday June 3 at 9pm
Our summer obsession is back as a brand new set of islanders head to the sunshine to find love. The show hit the headlines recently over the care of contestants sparking a robust overhaul of its backstage policies. That seems to have done the trick for this year's contestants as they prepare to battle it out for love. Caroline Flack will strut into the famous villa for the debut show as she introduces a gang of guys and girls who include a sexy scientist, a surfer and a hunky firefighter. There are even a couple of famous links as the brothers of Strictly star AJ Pritchard and boxer Tyson Fury have joined the line-up. As the action kicks off we're all eager to see if sparks fly and who's going to get mugged off!
Killing Eve
Series two kicks off on BBC One in June
The wait is nearly over as fans finally get to see what happened to bloody thirsty psychopath Villanelle and her hunter Eve Polastri as the second series of Killing Eve blasts back on the box. Having stabbed the serial killer in the series one finale, Eve is going to hot foot it back to London and act like nothing's happened. Meanwhile, Villanelle will disappear to lick her wounds but it won't be long until she's back to her butchering best. The body count is huge, the fashion will leave everyone with wardrobe envy and there's plenty of laughs along the way as this British thriller becomes our new TV obsession.
The Restaurant That Makes Mistakes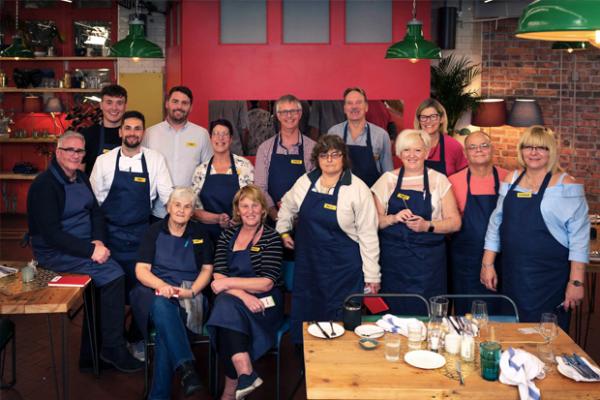 Launches on Channel 4 in June
The BAFTA winning team behind Old People's Home for 4 Year Olds are back with a new series which puts dementia centre stage in a surprising and emotional way. Taking inspiration from a real life project in Tokyo, the show aims to change the way we think about dementia which is fast becoming the nation's biggest killer. Over the course of a month cameras will follow a group of people living with the condition as they are given a crash course in all the tricks of the restaurant trade before opening their own eatery where they will serve a host of famous faces and members of the public. Get ready for a delightful show for all the family to watch.
Year of The Rabbit
Launches on Channel 4 in June
Set in Victorian times this brand new comedy drama sees a trio of crime fighters try and clean up the streets of London. Detective Inspector Rabbit (Matt Berry), who is described as a "hardened booze-hound who's seen it all", takes the lead as he's joined by his colleague, straight-laced Wilbur Strauss (Freddie Fox) and Mabel Wisbech (Susan Wokoma) the rather crude daughter of the police chief as they try and bring law and order to the capital, however, with Jack the Ripper prowling the streets, gangs causing chaos and plenty of crooked politicians, the trio have their hands full!
Drop A Stone for Summer
Launches on Channel 5, Saturday June 8
With talk of another heatwave this summer Brits around the country will be gearing up to flash the flesh as we bask in the sunshine. For many of us however, the thought of slipping into some swimwear fills us with horror. So in this new series Loose Woman Ruth Langsford comes to the rescue as she helps a dozen food fanatics who are all determined to lose weight before summer. With the help of expert medical advice they will all face different diets to see which one really works to see if they are able to Drop A Stone for Summer.
Shopping With Keith Lemon
Launches on ITV2, Thursday June 6 at 10pm

One of telly's naughtiest stars has been let loose for a new chat show with a difference. We're all used to seeing celebrities get a grilling from someone while sat on a sofa, but not Keith, he never does anything normal! Get ready for more madness a he hits the high street to go shopping with a bevy of stars and interview them along the way. Whether it's doing her weekly shop with Spice Girl Mel B or going guitar shopping with Busted, Keith will have a good old gossip and is sure to uncover something surprising from his guests as let's face it, he's sure to ask the questions other chat show hosts wouldn't dare ask!

Credit: Katie Begley