Starts Sunday 31st March, 9pm
This crime drama from genius writer Jed Mercurio is advertised as being 'from the makers of The Bodyguard' but to our mind, Line of Duty is the original and still the best.
The fifth series launches on March 31 and, as you might expect from a show renowned for its huge twists and surprises, everybody is keeping very tight-lipped about the plot.
So what do we know? Well, the dream team of Adrian Dunbar, Vicky McClure and Martin Compston are back as AC-12, the police department which investigates bent coppers. We also know that the fabulous Stephen Graham is joining the cast as John Corbett, a pivotal figure in a deadly organised crime group known to have links with corrupt police officers.
The big named actors have often been killed off in series past – Jessica Raine, Keeley Hawes and Daniel Mays all met a premature end, for example – so does that mean it's curtains for Stephen Graham? Will we find out who the shadowy puppeteer 'H' is? Will any of AC-12 have to be interviewed by an officer at least one rank senior?
Who knows. Fans know it's almost pointless trying to second-guess anything, fun though it is to come up with theories.
One thing we DO know is that the country is about to be gripped by Jed Mercurio fever once again.
Joe's Got Your Back, Channel 4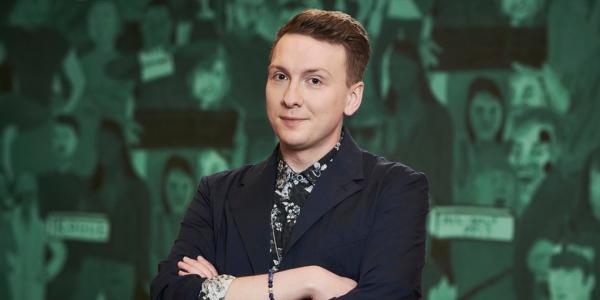 Starts Friday 5th April, 8:30pm
The loveable comedian Joe Lycett is the host of The Great British Sewing Bee and a a steady fixture on panel shows such as Eight Out Of Ten Cats Does Countdown.
But he first made his name by sending hilarious complaints to businesses and reading out the email chains in full.
His most famous anecdote – in which he recounts wriggling his way out of a parking fine through a series of daft messages to a council official – went viral, so this new consumer show is the perfect fit for his skills.
Championing the public, Joe uses his charm and cheeky humour to help people with genuine problems and investigates a range of gripes and scams.
It's a fantastically unique format: Watchdog it ain't, but it's definitely worth a watch.
Pilgrimage: Road to Rome, BBC2

Starts Friday 5th April, 9pm
The first series of this lovely show saw a pre-Strictly Come Dancing appearance from Debbie McGee, touchingly coming to terms with the death of her husband, Paul Daniels.
And this second series is no less affecting, in different ways.
Birds of a Feather actress Lesley Joseph, Strictly's Brendan Cole, presenter Mehreen Baig, singer Dana, and comedian Katy Brand are among the walkers following an ancient pilgrimage route known as the Via Francigena.
From devout Catholic Dana to stout atheist Brendan via non-practising Jew Lesley, the celebrities all have different attitudes toward religion but hope to find peace and understanding along the way.
But somewhat surprisingly, it is actor Les Dennis, comedian Stephen K Amos, and Olympian Greg Rutherford who pull the heart strings the most: all three of whom have a little cry along the way as the trip helps them towards important realisations about their own lives.
As you'd expect with such a line-up, there are laughs aplenty, but overall this three-parter leaves you feeling deeply touched no matter what your beliefs.
The Durrells, ITV1
Starts Sunday 7th April, 8pm
This family favourite is back for its fourth and final series, so lap up those beautiful Mediterranean sets for one last time.
Based on the autobiographical novels of the real-life Gerald Durrell, including his best-known book My Family And Other Animals, The Durrells explores the British family adapting to life in Corfu.
Headed by the ever-reliable Keeley Hawes as mother-of-four Louisa, The Durrells has always been a light and gentle series, full of various mishaps with animals as well as romances.
But the last series will take us up to the outbreak of World War Two in 1939 and become 'a bit dark', according to Keeley.
Whatever darkness lies ahead, however, there are bound to be ups and downs along the way.
Viewers will no doubt be desperate to find out, for example, if the on-off relationship between Louisa and Greek taxi driver Spiro (Alexis Georgoulis) takes off.
Meanwhile Larry (Josh O'Connor) finds himself in a triste with two ballet dancers, heartbroken Leslie (Callum Woodhouse) throws himself back into his job, Margo (Daisy Waterstone) wants to open her own beauty salon, and Gerry (Milo Parker) is planning his zoo opening.
We'll be sad to reach the end of this sun-drenched, gorgeous show – but it's been a delight to watch the family come of age over the years and the finale promises to be the perfect goodbye.
Chimerica, Channel 4
Starts later this month
It's hard to pin down this drama: it's a thriller, but it's artfully shot. It's political, but it has elements of screwball rom-com. It's deadly serious, but it's laugh-out-loud funny.
Based on the award-winning play of the same name by Lucy Kirkwood, Chimerica tells the story of Lee Berger (Alessandro Nivola), an award-winning photographer who is caught manipulating a picture of a war scene in Syria.
Sacked from his newspaper job, he decides to track down the subject of his most famous photo: a Chinese man protesting in front of tanks in Tiananmen Square, who he thinks may be alive and well and living in New York City.
Sophie Okonedo stars as Lee's love interest, and Cherry Jones is exceptional as the ballsy colleague who agrees to help him.
It's all set against the backdrop of the Donald Trump campaign and tackles the relationship between China and America as well as consumerism, ethics, fake news, and Beijing air pollution.
But if that makes it sound too worthy, don't be put off. This is a taut drama with heaps of twists and turns, lots of intrigue, and some star performances.